Past - Present - Future Layout

1. Past: Consider the meaning of this card as it may represent the past, the origins of the question in mind.
2. Present: This card represents the current state of matters pertaining to the question.
3. Future: This card indicates a possible outcome* of the situation.

*One thing to consider is that the final outcome or "future" card is just a possibility - nothing is set in stone! If you don't like the outcome in a reading, think of different choices that you might make to create a different outcome.


Celtic Cross Layout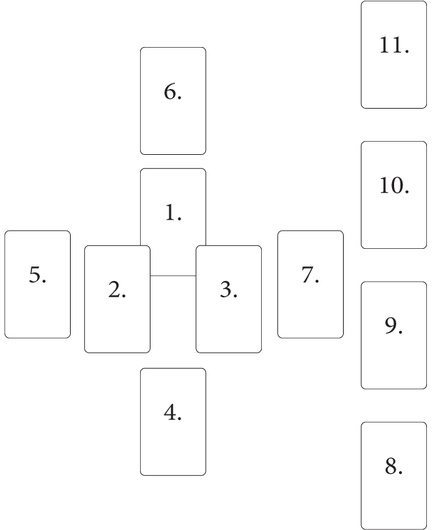 1. You: This card represents who you are being, in light of the situation.
2. The Challenge: This is the obstacle to be overcome in regard to the question.
3. What Needs to be Integrated: Your key to overcoming the Challenge.
4. Foundation: The distant past, the origins of the question.
5. Recent Events: Influences that are just now passing away.
6. The Sky: What you think about it, your mental outlook on the issue.
7. Near Future: The possible future if things proceed in the direction in which they are going.
8. Your Environment: This represents wherever you are- your home, workplace or any place you may be in regards to the question.
9. Your Partner: Who is there with you, to help you in the matter.
10. Hopes and Fears: Sometimes our hopes and fears are just two sides of the same coin- which is it for you?
11. Final Outcome: The possible outcome of the issue in your question if events unfold as shown.*

*If this card is a Major Arcana card, (0 - 21) then the final outcome is strongly indicated. If not, draw up to 3 more cards until a Major Arcana appears. If only Minor Arcana cards appear, the outcome is unclear at this time.